Melaka is famous not only for its history and unique culture, but also for many other things. Thanks to Dr Mohamed Ishak, a future conscious doctor of Melaka, the city has now another feather in its cap – the new campus of the Melaka International School focusing on sustainable living in the future. The Melaka International School (MIS) was first established in 1993 by Mrs Shamsunnisa Ishak, the State Economic Development Corporation, the Melaka Foundation and Dr Ishak to cater to the expatriate population of Melaka State. The students from all over the world, including, England, Indonesia, India, Pakistan, Finland, Korea, Taiwan, Switzerland, Japan, Vietnam, USA, UK, Singapore and Malaysia have benefited and are benefiting from this endeavor. Here students are prepared for the University of Cambridge IGCSE 'O' and 'A' level Exam.
When the school was founded, it started its clases at No. 4 Jalan Taming Sari, Melaka. Later, it was shifted to No. 1, Jalan Kubu campus. In May 2008, it was shifted again from its old historical building on Jalan Kubu near Jonker Walk to the new state-or-the-art building located at Kampung Lapan in Melaka. The new school building stands majestically on a 7.5 acre land which includes 2 acres eco-friendly organic farm. The school has been improving since its commencement and the management continues its efforts to improve it further in future to keep pace with the changing times and conditions. Located in the suburbs of the historic city, the new campus is strategically placed with easy access to the north and south via the North-South Highway. It is also near residential communities, golf courses and shopping complexes, where expatriates like to stay during their tenure of service in Melaka.Being the only international school in Melaka catering from Junior Pre School (kindergarten) to A-Levels (pre-university) MIS prepares for and conducts the University of Cambridge IGCSE "O" and "A" level examination.The most interesting feature of the school is the attached organic farm. This farm has been developed due to special interest of school's future conscious Chairman, Dr Mohamed Ishak. He is very well aware and concerned about the global warming which is causing massive destruction everywhere. One cannot blame nature for its root cause. It is the doing of the human beings, the people themselves who are slowly but surely destroying the mother earth. For instance, the rising industries emitting numerous toxic gases!As inhabitants of mother earth it is the duty of every one of us to save earth from such destruction. In 1970 there were about 3 billion people globally and by 2010 it is estimated to touch 9 billion. The earth is getting smaller but the availability of food consumed by the people is has not increased proportionally. To overcome such food shortages and boost agriculture production, use of chemical fertilizers and pesticides was introduced towards mid-twentieth century. It did temporarily increased food production but food produced in such a way also carries toxic chemicals with it. Many people do not realize that they are consuming toxic foodstuff. Dr Ishak was rather amazed and shocked to see that many young children today suffered from cancer.. He feels that children do not drink, smoke or do anything harmful to their bodies, but still they get these malignant diseases. According to him a research has shown that the food and drinks consumed by these unfortunate children was the root cause of them developing cancer.The toxic sprays on fruits and vegetable plants is indeed very harmful to one's health. Worst happens when this kind of toxic foodstuff is used to prepare fast food! Milk powder too has been found to have growth hormone and estrogen which are not good for growing up children. Dr Ishak decided to set up an international school's new campus here in Kampong Lapan, Melaka not only to educate the children but to empower them for sustainable living in the future.
Dr Ishak also wants the children to conserve energy and prevent global warming. That's why his school plans to use solar energy for many purposes. The classes are very spacious to accommodate coolness. There are no air-conditioners in the classrooms. The only air-conditioner used is in the library. The children learning at the school are exposed at an early age to organic fertilization, germination and the awareness of practicing a healthy lifestyle. Recycling of waste, rainwater harvesting, and many other practices for environmental protection are being gradually incorporated in the school. The school also holds various community awareness programs, for educating the communities and other school children about global warming, environmental protection, conservation of nature, and sustainable living in the future. This serves to educate others as well as empower the students studying in the school to spread the word in letter and spirit to others and incorporate such practices in their lives.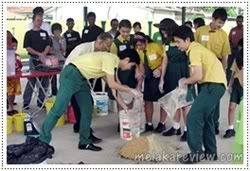 MIS Students demonstrating organic farming
MIS boosts its premises with a theater, dance studio, a multi-purpose hall and a number of sports facilities in addition to the organic farm. The school hours are from 8.00 to 3.30 pm from Mondays to Fridays while the weekends are meant for tending the organic farm.
The Primary School
The Primary School and kindergarten provides a structured environment in which the child is encouraged to become confident, socially adaptable and self-disciplined, in a happy and playful atmosphere. The paramount importance for healthy growing up is the child's social development: learning to share, to work and play, and to accept the wider needs of the group. Time is set for individual work, which includes practical life exercises especially designed to encourage concentration, co-ordination and independence. As the children mature they are introduced to various graded exercises to develop language and number concepts. The child develops in a family-like atmosphere, where emphasis is placed on personal responsibility and serious work. Children are encouraged to give of their best. The British Curriculum, planned as an integrated whole, together with extra-curricular activities, combine to give the pupil a good foundation for secondary education. There is a continuous assessment system and progress reports are given periodically. In addition, teachers are available to parents at special parents' meetings and whenever the need arises.
The Secondary School
The Secondary School Curriculum at MIS is directed towards the Cambridge Certificate Examinations. Group and personal advice on career choice are provided throughout the year. Students are helped towards developing a critical sense and clarity of thought. The friendly staff works in close contact with parents. Students take examinations in all subjects during the year and progress reports are sent to parents at the end of each term. Parents are always welcome to meet the staff, individually and at parent-teacher meetings.
Co- Curricular Activities (CCA)
To help the overall development of students, a number of extra-curricular activities are organized. These are run by Secondary students under the supervision of a member of staff. Senior students in particular are invited to get involved in their organization. The Co-Curricular Activities include: sailing, horse riding, arts and drama, swimming, learning music and dance, cooking, etc. The school also has uniformed societies [scouts, girl guides, First Aid (St John Ambulance), MIS brass band] as well as Students' Council, Prefects' Board.
Sports
Importance is given to sport activities. The sports taught at school include: badminton, hockey, table-tennis, football, basketball, swimming, net ball and indoor games. Sports facilities include a hockey pitch, a swimming pool, badminton court and basketball pitch.
The new school campus consists of an auditorium with indoor basketball and badminton court and an outdoor playground for hockey, football, track & field, (sprint, relay, long jump, short-putt, hurdles) and other games.
Students are strongly encouraged to take part in sports and are expected to attend matches outside school hours if they are members of a school team. The school places an emphasis on sporting activities and considers them an important element in the pupils' development. All classes have Physical Education within the time-table. The school also has its own Basketball/netball courts, playground for football and hockey and facilities for indoor games (carom, scrabble, monopoly, etc), swimming, track & field (sprint, relay, long jump, shot putt, hurdles).
Sailing Club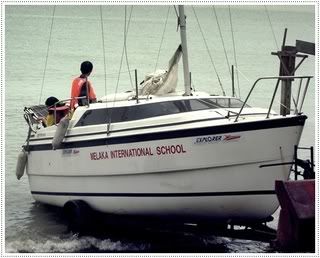 MIS Sailing Club Boat
The Sailing Club of the school is equipped with its own Explorer boat. Students interested in water sports can join the club and explore the mysterious Straits of Melaka with guided coastal tours and participate in periodic state and country level regatta events as well.
Horse Riders Club
Horse Riders Club
The Horse Riders Club of MIS has its own horses for learning horse riding. The stables are situated in the attached farm with large ground to ride horses. The school is acquiring more horses for its club and intends to start more activities soon in association with other horse riding clubs of Melaka. Other activities of the school include Camps, Annual School Sports Day, Annual Concert Night, Term excursions / visits for students (& parents if interested), trips for staff, etc. Celebrations are also held in recognition and observance of various national festivities, eg Diwali (Festival of the Lights), Hari Raya Aidilfitri, Chinese New Year and Christmas. Training & development (teaching methodology, counseling, etc) for staff (seminars, workshops) is a regular feature so that students are taught by the updated teachers and trainers.
Organic Farming Activity
Beside the on-campus organic farm of the school, there is another larger 25 acre camp site and nature farm located in Kesang, just outside Melaka. This camp site has all infra structure, Chalets for parents, tents for students, water and electricity with toilet facilities. Periodic trips and camping tours are arranged for students and parents to the said farm.
Organic Farming by MIS Students
Students are provided with first hand knowledge and life experiences of organic farming. Those students who want to pursue their career in Naturopathy and Complimentary Medicine would benefit greatly from trips to this place.
Science and Information Technology at MIS
The school considers Science and Information Technology as basic requisites in the competitive world. The students are taught computer science from the primary class. The school has a computer network to allow students to gain hands-on experience. The school also caters students with scientific knowledge in the physics, chemistry and biology lab.
Foreign Language
Bahasa Malaysia and Mandarin are taught as a foreign language and steps have been taken to introduce other foreign languages such as French and Japanese to help the children as students with multi lingual skills are preferred in the job market.
Facilities.
The school has environmentally friendly class-rooms, a library stocked with reference books for primary and secondary levels on study subjects, story books (fiction/real life), magazines, literature material and equipped with Internet facilities for student research and reference, and audio-visual aids, an ICT lab, equipped with the latest computers with Internet facility. The canteen of the school is clean, airy, well-lit and furnished with 4-pax tables, serving organic food grown at school's own organic farm.
Academic Activities
The academic year in the school starts on 1st September every year and concludes in the month of July in the following year. Juniors, For Years 1 & 2, from 4 years old can join. However, while age is a requisite for entry into the respective class, discretion is exercised for individual differences.
Admission Requirements of the School
(1) Any expatriate children between the ages of 4 – 18 years, (2) Either parent is an expatriate, (3) Child holds a foreign passport, (4) Children of Malaysian diplomats and ambassadors, (5) Malaysian citizens are also allowed to enroll their children.
Procedure for Admission
To Enroll/Register in MIS is simple:
Submit Application forms (available at school's office or can be download from school's website) and other necessities.
(1) To apply for visit pass to enter Malaysia (applicable only for certain countries).
(2) To apply for student visa from Melaka Immigration Office for international students.
(3) The completed application forms are be sent to school's office, after which an entrance examination is scheduled.
Hostel Facility
The school arranges homely hostel facility as well.
Values
MIS seeks to provide a person-centered education which develops all that is best in each student. The educational climate is considered of supreme importance, and the school creates a family-like atmosphere through personal attention, encouragement and understanding. The overall small numbers facilitate open communication between teachers and pupils and among the pupils themselves. The difference of culture shared among the international students provides a good area to mold the students for a better future.
Students' initiative and participation are encouraged at all levels. There is a School Council of staff and students, to which representatives are elected each year from the Secondary School. They help the students at all levels and encourage them to do well in all the activities.
Emphasis is placed on high academic standards and hard work, leading to the formation of sound intellectual criteria and good study habits. A mixed ability system operates in all classes throughout the school.
Educational Society
The school seeks to create an educational society where parents, staff and students work together in harmony for the overall development of the pupil, since both home and school have an important and complementary role to play in this task. Contact is maintained during the year between parents and teachers, both individually and in groups within this context, the pupil is encouraged to develop all aspects of his/her person.
Discipline is based on mutual respect and reason rather than fear. Opportunity is given to the students to develop self-discipline, self-respect and respect for others, as well as a sense of responsibility and co-operation.
Personal Development
.
Emphasis is given on the personal development as involvement with learning goes beyond the limits of the class-room. The students are encouraged to become creative, self-confident, articulate and committed members of society. Students take part in club activities, plays and social and environment awareness campaigns. School outings to the theater, concerts, and public exhibitions are undertaken in the course of the academic year.
Musical and dramatic talent is developed through school band, concerts, musical presentations or plays. The visual arts are also a priority. Drawing, painting, as well as craft work are included in the curriculum and are regularly displayed. Pupils take part in public competitions. Throughout the year there is scope for group and individual creativity, research, project work, presentation skills, shared responsibility and team work, adventure, contact with the world of work and with society. Overall, the education at MIS seeks to make the most of a year less subject to the narrowing constraints of examination pressures, to give the students a more complete educational experience. It is a much appreciated system on the part of the students.
Personal Care
The school strives hard to give every pupil our personal care and attention so that they don't get lost in this world of competition and gain hopes that they can do well in their future career. To enable pupils to receive personal attention, so important in any educational process, a system of Class-Teachers' operates in the School. The Class-Teacher looks after the overall welfare of the pupils in a given class.
Contact info
: MIS may either be contacted through its website at
www.mis.edu.my/
, or e-mail to
administrator@mis.edu.my
or one may simply call +606 336 8781 or fax to +06 336 8789 for further information in detail.